I have to admit, I'm an eBay fanatic. I use eBay for everything--sunglasses, shoes, clothes, bags, jewelry, makeup (yes, makeup). I know some people how reservations about it, and yes, I have been ripped off (but I got all my money back!), but honestly, I think eBay is a great, trustworthy place. Like the equivalent of a giant, online flea market. What's not to love about that?

Vintage Sargent Pepper Black Military Jacket, M/L, currently $9.99 at ebay.com, Vintage Navy Tuxedo Military Jacket, 4/6, currently $15.31 at ebay.com, Vintage '80s Black Wool Boyfriend/Military Jacket, S, currently $20.50 at ebay.com: We all know the military-inspired Balmain jacket is huge right now (HUGE), and for those of us (everyone) who can't afford the $11,000+ original, look no further. The jacket on the right is the most obvious option. Very '80s bandleader/Michael Jackson. I loves it. Wear it unbuttoned with a white tee and jeans...I die. And it's $10! Seriously. The other two blazers are probably a bit more wearable, but also fit the '80s inspired bill with the double-breasted buttons, with a bit of the boyfriend trend thrown in for good measure. I love how these are styled with the sleeves pushed up. I think the extra bit of skin that gives the look keeps with from getting dowdy.



Alexander Wang Destroyed Boyfriend Denim Shorts, 27, currently $99 at ebay.com, Isabel Marant Plaid Peasant Top, S, currently $142.50 at ebay.com, Luella Hipster Dolly Skirt, 4, currently $150 at ebay.com: Aside from vintage, you can also score great designer finds on eBay. I loved these Alexander Wang shorts on the runway 2 years ago, and I still love them now. They're completely current (hello, Boyfriend jeans), but more practical for warm weather, and WAY cheaper than before. I might love that Isabel Marant top more, though. She's this amazing French designer whose stuff is impossible to find online, which always depresses me. This top is adorable! It's the perfect transition piece, with the wintery print and summery fabric/fit, and the breezy length perfectly balances the loose fit. And that neckline! It's out of my budget, but I still can't get over it. Sigh. And how cute is that Luella skirt? It's a little folksy/kitschy, but I think if you styled it the right way (a la Alexa Chung, who owns this), it would be amazing.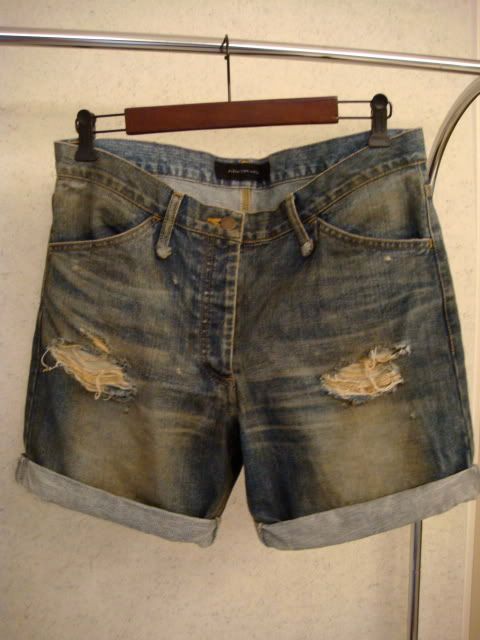 Image Sources:
Srgt. Pepper Military jacket: ebay.com, Navy Military jacket: ebay.com, Black Military jacket: ebay.com, Alexander Wang shorts: ebay.com, Isabel Marant top:
ebay.com
, Luella skirt: ebay.com