I love Etsy. I don't think that's a secret. But I find the best stuff on that website. It's the best for somewhat personalized accessories, beauty products, and home decor. Here are a few of the things I've gotten recently:
Mane Message Pantone Fall 2011 Package, $16.50 at etsy.com: I've wanted some of these hair ties for FOREVER, and they are a heck of a lot cheaper on Etsy than at other places. These were actually an Xmas present from my brother! The set is all the 2011 Pantone colors, mustard yellow, tangerine, pink, purple, green, deep ocean blue, brown, nougat, orchid, and quarry. So they're fun, on-trend colors. I got this set because it had a nice mixture of bright and neutral colors, but Mane Message's shop also has a ton of different, fashion-forward color options, including tie-dye. These hair ties work out to $1.65 each, which is decent. In terms of quality, they're the same as any other incarnations of this trend I've seen, but I love me these colors. They look pretty on my wrist just as a bracelet, and they look much nicer holding up a ponytail than some ratty old elastic. And they work well too! I have tons of thick, slippery hair, and these manage to keep it contained in a bun with minimal falling out and no awkward hair kink marks. Consider me a convert.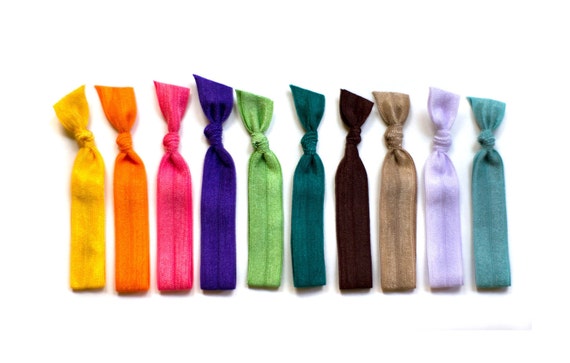 BirdAve Gossip Poster, $18 at etsy.com, Big Ben Skyline Poster, $20 at etsy.com: I finally caved and got these posters! I've wanted the one on the left for at least a year now. BirdAve's shop has a TON of adorable posters, including lots of city ones and some sassy quote ones. The chair one says 'If you don't have anything nice to say, come sit next to me.' It's perfect for me! I got it in a pretty medium pink, and then I got the London skyline one in a royal blue. I also got little white frames with glass from Amazon so I can actually hang them on my walls like a real person and not just haphazardly tape things everywhere. I feel so grown-up.
All images via etsy.com.