Let's talk about Black Friday. Personally, I think it's a little overrated unless you're looking to buy a plasma TV and willing to camp out in front of Walmart, but nevertheless, there was some serious shopping done. My bank account is crying, but I'm very happy (what else is new?). And remember all that makeup I said I was going to buy? I bought most of it! I'm going to be testing the majority of it for a few more days, but I'm going to review a few things now. But first, look at this picture:




See anything different? Probably not. BUT I GOT MY EARS PIERCED! I'm a big girl now! It was very anti-climatic. But I'm really happy about it. Anyways, on to the makeups. It's hard to see in the pic above, but I'm wearing navy blue nail polish, and yes, it's OPI's Russian Navy. I fell for it (and the rest of) the Russian collection when it came out, but I never got around to buying it. Well, Ulta was having a buy 2 OPI, get one free thing, and I stumbled across a bottle of Russian Navy (the first pic). Sold. I also finally sprung for Black Cherry Chutney (in the middle). Russian Navy is amazing. It's dark enough to be edgy and a little vampy, but it's not so dark that it gets mistaken for black (so annoying). It's a bright sapphire blue with a hint of scarlet shimmer. I really love it. It's unique and fresh, but since it's a deep blue it's not too in-your-face. I wish the shimmer would show up a little more, but I think my topcoat's more to blame for that than the polish. I've already gushed about Black Cherry Chutney, but seriously, how gorge is that? My roomie picked up the sleeper hit of the night, though: Here Today, Aragon Tomorrow, from the Spain collection. It's so interesting. It's a dark, hunter green polish with absolutely no shimmer. It's almost dark enough to be mistaken for black, but in the right light it makes you stop and wonder what color it is (in a good, mysterious way). I will def be borrowing it.



As for the actual makeup, I got the Bobbi Brown Gel Liner in Black Ink, $21 at bobbibrown.com, and the MAC shadow in Satin Taupe, $14.50 at maccosmetics.com. I already had the Sephora Platinum Angle Liner Brush, but it's $18 at sephora.com. I knew those gel liner pots were small, but wow. It's literally the size of a gold dollar. On the plus side, I still think it'll take me a while to go through because you need so little of it. I think it's going to take me a while to get used to this because there is definitely a learning curve, but I like it, and it makes perfect cat-eyes, which is why I bought it. It's very black, although it could be blacker, it dries quickly but is easily to apply, and has the look of liquid liner without the hassle of actually using liquid liner. It layers well and wears pretty decently. It will rub off and I doubt that it's entirely waterproof, but I can go most of the day without a touch-up. To apply, I use an angled liner brush (you could also use a thin brush like a MAC 209/210), and just tap the sides of the tip of the brush against the liner. Then start the tip of the brush at the inner corner of the upper lashline, and follow the lashline all the way to the outer corner of the eye. Lightly draw the brush along the lower lashline (you could line the waterline, but I doubt it would wear well). Pick up a bit more product, and place the brush so that the point is equal with the end of your lower waterline. Draw a line, however long you want your cat-eye to be, that extends your lower waterline out past your eye. If your line goes belong where the continuation of your lower waterline would be, it makes your eyes look droopy and tired (never a plus). Then connect the end of that line that the liner above your upper lashline, and voila! Brigitte Bardot fantasticness. On to Satin Taupe. I resisted buying this for such a long time--I thought it would just be another taupe, nothing special. I don't know why, but Satin Taupe is amazing. It's a deep taupe that's leaning towards purple with a hint of grey and a silver frost. All of MAC's shadows are blendable, but some literally are as soft as butter (like Romp and Style Snob), and Satin Taupe is one of those. It's so easy to work with, it layers well, and it is officially the perfect crease color. It has more impact than Wedge, and the silver frost makes it a little mysterios and intriguing, but it's still a workhorse neutral. This is a definite repurchase. And it would be so hot as a base color for a smoky brown eye look! Loves it.



So this is my new daytime eye look. The lid is really light, which is new for me. I'm wearing Ulta's shadow in Sandstone across the lid, with Satin Taupe as a contour and the Bobbi Brown gel liner. I know the liner isn't perfect yet (the left eye always comes out better than the right! And that's the eye that's covered by my bangs. Grrr), but I love this look. It's lighter than my usual, but it has just as much impact, and the feline eye look is very on-trend.



My inspiration, Brigitte Bardot. Although her liner is a bit below the continuation of her lower waterline. It's really hard to explain, but the liner should continue the shape of the eye, like it does in this Temptalia pic. So perfect.


J. Crew Cyprus vachetta-and-metallic Leather Sandals, $115 at jcrew.com, 3.1 Phillip Lim Leopard Trench, $439 down form $725 at barneyscoop.com, Missoni Rose Knitted Tunic Dress, $1,390 at net-a-porter.com: And, as always, some random shopping. These J. Crew sandals are the perfect gladiators. They're simple, and really look like they were hand-made in Italy, and the authenticity of that is so refreshing against all the blinged-out gladiator sandals we've been seeing lately. The mixture of metallic and matte leather adds visual interest without distracting from the clean lines of the sandal, and although $115 isn't cheap for a pair of gladiators, J. Crew sandals wear so, so well. My new obsession with cat-eye liners has made me want to dress up like a '50s Italian cinema heroine. There's something about that look, with the classic feminine pieces against the aristocratic touches, like a really nice pair of flat riding boots. (Random, but if anyone loves Italian aristocracy--or just books about the decline of aristocracy in general, yes I am a nerd--you have to check out The Leopard. So good). I love this trench because, one, it's Phillip Lim, and two, it takes the classic trench shape and color palette, and then throws some leopard print into the mix. But since it's such a subtle leopard, it's really a neutral with a lot more attitude and visual interest. I find the wrist detail distracting, but I'd roll the cuffs and push up the sleeves anyways for a more casual chic look. I realize that this Missoni dress is absurdly expensive, but I loves it. The shape is perfection, with the deep v-neck offset by the fluttering sleeves, and the leather belt cinching in the waist. The juxtaposition of the organic feel of the belt against the very manufactured flame print is so drop dead chic. And you could wear this dress a million different ways. I'm totally justifying it to myself right now. Someone please restrain me.



Mink Pink Riveting Mini Dress, $72 at shopbop.com, Gap Product Red Stella Tee, $28 at gap.com: I know I post a lot of body-con minis with long sleeves, but this one is so affordable AND it's covered in little studs AND it has a deep back. For less than $75, this LBD is a serious bargain. I just had to post this Gap tee. If anyone remembers our first blog, I have a very soft spot in my heart for anything named Stella, and also proceeds from this tee go to charity, so it's shopping for a good cause. Plus, the trompe l'oeil tangle of necklaces is both ironic and ridiculously fab.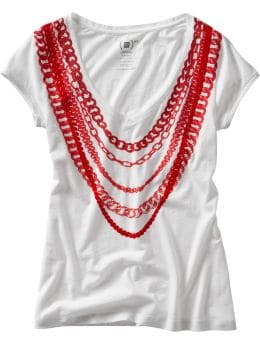 Image Sources:
OPI polishes: Russian Navy: greatlacquerhunt.blogspot.com, Black Cherry Chutney: nailjuice.com, Here Today, Aragon Tomorrow: thehungryasian.blogspot.com; Bobbi Brown liner: makeupalley.com, Sephora brush: sephora.com, MAC Satin Taupe: makeupalley.com, Brigitte Bardot: latimesblogs.latimes.com, Temptalia cat-eye: temptalia.com, J. Crew sandals: jcrew.com, Phillip Lim trench: barneyscoop.com, Missoni dress: net-a-porter.com, Mink Pink dress: shopbop.com, Gap tee: gap.com.