When I was in London a few days ago, I was all over Boots. Literally. My friends thought I was insane. It's cool. I stocked up on some awesome products and picked up this lip balm.
Say hello to the Boots Essentials Lip Salve in Strawberry, about 1 pound at boots.co.uk. I think I have a serial lip balm-collecting problem. I pick one up in literally every country in every drugstore.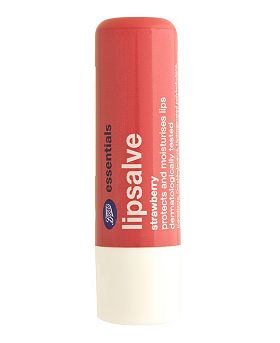 The deal with this lip balm is that it comes in a little strawberry-red tube with lipstick-esque packaging (the whole red part slides up and the lip balm twists up). The balm itself is white, goes on clear with a pretty sheen, and has a lovely, firm but buttery consistency. It doesn't have SPF, but it keeps my lips soft and moisturized for at least a few hours--I probably reapply 3 or 4 times a day, which is standard for me.
But the best part is the smell/taste. It's just like strawberry candies! Like Smarties! It's DELICIOUS. It smells delicious and tastes delicious and the smell lingers for a long time, which I love. If you don't like your lip balms with strongish smells, then this isn't for you. But it makes me very happy.
Awkward Chic Rating: B+. It's a pretty standard lip balm, cute but not excellent packaging, no SPF but good moisturizing power, no tint but a yummy smell. It's definitely worth picking up if you're near a Boots or a Target, and since it's so cheap you can get the Strawberry and the Original (with SPF!) and the Spearmint!

Images via boots.com.