Confession: I'm an English history nerd. I've been all up in the Tudors, I've watched all the Anne Boleyn movies and read all the books (highly, highly recommend Wolf Hall), and all that jazz. So when Rescue Beauty Lounge put out a collection inspired by some of Henry VIII's wives, I was all over it.
There are great swatches over at All Lacquered Up, and my absolute favorite is Anne (duh). It's a grey olive green with gold and pink shimmer. Pink! It adds such an interesting dimension to the green base. It's a little off, but in all the right ways, very spunky and almost ferocious, just like Anne. You can get it for $18 at rescuebeauty.com, when it goes on pre-sale soon (the dates were uncertain). I know $18 is a LOT, but it's such an interesting, off-beat color, and RBL polishes are nasty chemical free.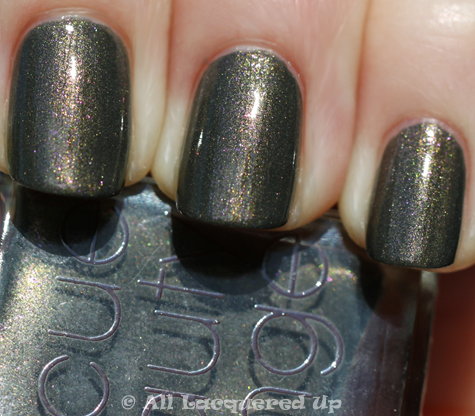 In totally unrelated news, I got a pair of Ray Ban aviators! And since I had to buy them myself, I got them off eBay (shocker). I found them for about $95, and they go for about $139 on Shopbop. $45 is like three MAC shadows, so woohoo! Haha. The only thing that I'd say to watch out for on eBay is that, as always, if it looks way too good to be true, it probably is. I saw a ton of these sunglasses with buy it now prices of $30. That's even less than their wholesale price. It makes no sense. I sincerely doubt that they are real. I bought a pair of Wayfarers on eBay for a great price three or four years ago, and while I do think they're real, I think they're factory rejects. One of the arms is wonky/on the verge of falling off literally all the time. Gah. This pair, however, is real and in perfect shape. And now, for the sake of the blog, I present the terribly awkward picture of me trying to make a serious face while taking a picture of myself in the mirror at midnight. If you can't tell, I'm struggling.
Yeah, I look like a fool, but I really like them. I'm very used to over-sized sunnies, and was THIS close to getting the oversized Wayfarers, but they just look silly on my face. My thing is that if I'm going to spend a lot of money on a pair of sunnies, they need to be a good pair of sunnies that actually looks good on my face. And just look at how long my hair is! Success.
Also, I just realized that all my nice pairs of sunglasses have become famous through Tom Cruise wearing them in '80s/90s films. See Risky Business and Top Gun.
Maybe Scientology is the next step. Ooooh. Maybe not.
Image Sources:
RBL polish: alllacqueredup.com, Tom Cruise: dialogosuniversitarios.com, dappered.com.