So I know that all this is old news, but I just got to a computer (yay! finally.), and so I'm putting my two cents in now. Emma Watson is in the Fall 2009 ads for Burberry, shot by Mario Testino (jealous).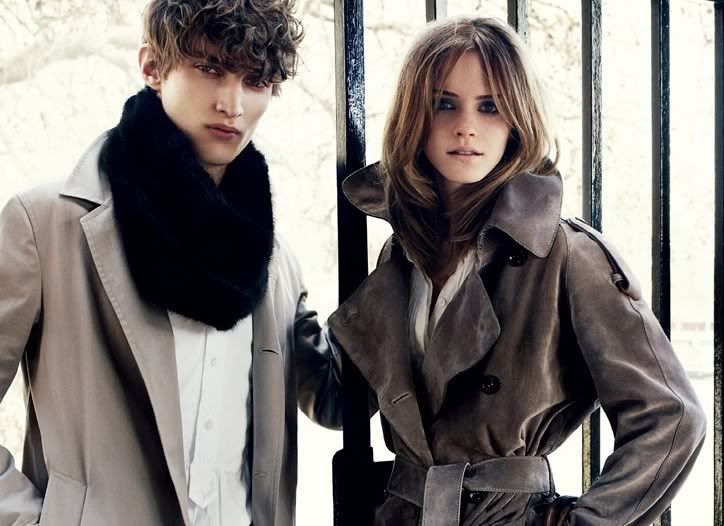 First off, I never realized she had such great bone structure! Girl is gorgeous, and has a seriously awesome jawline. And she's actually kind of pulling the modeling thing off. I mean, if I didn't know she was Emma Watson from Harry Potter, I might not recognize her, and a model's job is to be a chameleon. And she doesn't look awkward or uncomfortable like a lot of actresses do when they try out the modeling thing (ahem, Katie Holmes). But is it just me, or is she a little blonder than usual? Anyways, I love the makeup. It's translucent enough that her freckles are showing through, which is so refreshing, but that smokey eye is killing it, especially when paired with that nude lip. You have to give her props for pulling off an entirely nude lip, even if she's a little too washed out in the last shot for my liking.

As for the ads themselves, I love Burberry and Chris Bailey to death, and I love a good khaki trench, but every Burberry ad is a bunch of models/actresses and male models hanging around looking hungry in khaki trenches. I wish they would mix it up a little more. But these shots are interesting, and well-done, especially the first one, so I can't hold it against Burberry.


Image Sources:
all from thefashionspot.com

PS: I'm still down South, but I'll be back on the 19th, so look out for a CFDA fashion roundup, more Resort 2010 coverage, New Orleans pics and a roundup, and coverage of the Vena Cava/Alexander Wang Gap collaboration.