You guys didn't think I'd forget about Halloween, did you? It's basically my favorite holiday. You have full license to look absolutely ridiculous and no one can give you a hard time about it. Coming from a girl that once wore a turban to school, that says a lot. Now I'm not going to deal with the regular Halloween costumes, you know, the Barbie/vampire/Harry Potter/whatever, because I think those are pretty straight forward and not all that fashion forward (actually vampires might be pretty fashion forward but that's a whole other post). So for all those girls--or guys--that want an on-trend Halloween costume, I'm going to do a few posts. Starting with: Lady Gaga. Of course. I'm talking pre-VMAs and real descent into insanity Lady Gaga. I mean the leotard-wearing, disco stick carrying Lady Gaga.

Let's have a little re-cap of Lady Gaga's style. Lots of leather, leotards, long blonde hair, boots, shiny things, more leather, general amazingness.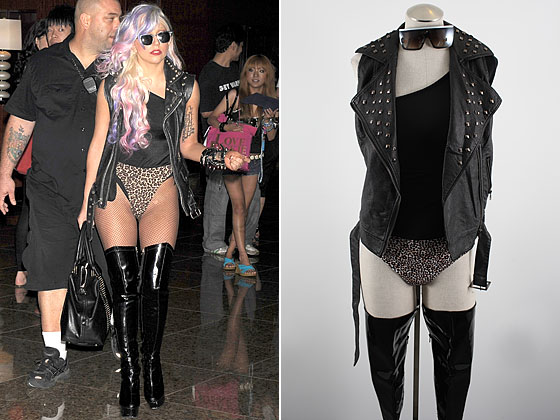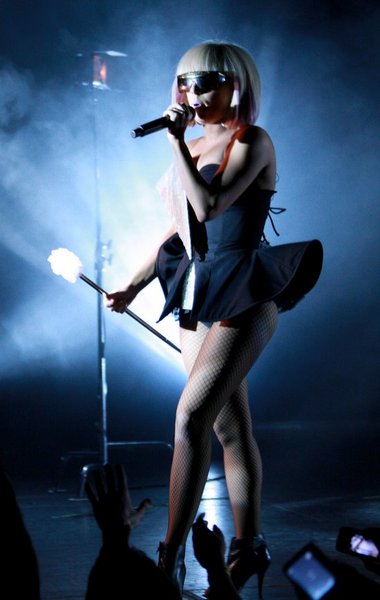 Now obviously we're at a disadvantage because Lady Gaga's closet is full of things that no normal person could ever buy anywhere at any time. But a lot of Lady Gaga-inspired stuff has filtered into the high-street market, so I'm going to try.

American Apparel Nylon Tricot Zipper-Front Bodysuit, $41 at americanapparelstore.com, Forever 21 Biker Style Vest, $32.80 at forever21.com, Hue Opaque Sheer to Waist Tights, $12.50 at herroom.com: I just have to say right off the bat that this is not a costume for the body-conscious or timid. I mean, you've seen Lady Gaga. You have to be at least slightly ridiculous and rather exposed to pull of this look. That said, I think a black bodysuit/leotard is the perfect base to this outfit. Obviously Lady Gaga walks around in leotards (and no pants) often, and I think this would actually be a conservative choice for her. The shiny finish and zipper down the front take it up to that crazy Beyonce tranny thing that she seems to love so much. I'd throw this motorcycle vest on top. It gives you extra coverage and warmth, and it's a look that she rocks all the time. It gives the ensemble even more of an edge, and hey, you might actually get some wear with this vest beyond Halloween. The tights aren't really Lady Gaga, but they're practical. It's going to be cold, and wearing a leotard with nothing on top or underneath is a lot of look and a lot of exposed skin for most people. The tights would at least make you feel like you weren't naked. And they're on-trend for fall!



Bleu Dame Futuristic Flat Out Neon Wrap Sunglasses, $12.80 at bleudame.com, Serpentine Wig in Blonde, $19.99 at rickyshalloween.com, Lady Gaga Hair Bow, $17.99 at etsy.com: Now I know you're thinking something along the lines of "but Megan, Halloween things are at night, why on earth would I need sunglasses?" Well. Celebrities in general are prone to wearing sunglasses at inappropriate times, but Lady Gaga would wear sunglasses in a blackout. And they have to be '80s inspired sci-fi sunglasses. She has like 15 different pairs that look just like these, and probably cost a lot more. Plus, sunglasses means you can skip the eye makeup! You just have to remember not to take them off. Last but not least, the hair is a big part of the Lady Gaga costume. You could do the purple/pinked streaked thing she's been rocking lately, but if you really want to be immediately recognized as Lady Gaga, you need the long, platinum blonde hair. Unless you naturally rock that style, I'd suggest a cheap, ridiculous wig like this one. And of course you need the hair bow. Aside from the disco stick, which I haven't seen in a while, the hair bow is definitely her signature accessory.



Susie Plain Stretch Thigh Boots, $39.99 at rickyshalloween.com: As for the shoes, you could always just throw on the most bondage-inspired, hardcore pair of heels that you own, and that would be fantastic all on its own. Or you could track down a pair of thigh high boots, preferably patent leather, if you really want to push it to the next level. And these boots might actually be a rational purchase, because thigh high boots are actually on trend now. You could get more wear out of these! And they're shiny!


If anyone successfully attempts this, I'm going to need pictures. Please.

Image Sources:
Lady Gaga pics in order: nymag.com, weblo.com, hausofgaga.ning.com, stylefrizz.com, buzzfeed.com, buzzfeed.com, gofugyourself.com, America Apparel Bodysuit: americanapparelstore.com, Forever21 Vest: forever21.com, Hue Tights: herroom.com, bleu dame Sunglasses: bleudame.com, Blonde Wig: rickyshalloween.com, Hair Bow: etsy.com, Boots: rickyshalloween.com.