I was going to dive right into the trend roundups, but I figured everyone needed a little break from Fashion Month. And where do I take my breaks? Anthropologie, of course. That store just makes me smile. Since it's me, there's a little bit of randomness at the bottom. Enjoy!

Corset Chemise, $68 at anthropologie.com, Viennese Waltz Chemise, $58 at anthropologie.com, Courting Lad Blazer, $158 at anthropologie.com: I realize these two dresses are chemises/slips, but I kind of want to wear them as real dresses. And before you call me crazy, slip dresses and lingerie detailing were a big trend on the Fall and Spring runways! The corset bodice on this first dress is killing me. Since it's in black, it's not too obvious, and I think with tights the sheerness of the skirt could be mediated. The way this second dress falls is just so cute. I love the grey, and the balance between the ruffle at the bust and the ruffles at the hem. This could totally work for real life. I know this blazer looks a little schlumpy, but I think it would really work on. The cropped sleeves and low neckline show enough skin to balance out the baggy body, and it's the ideal length. This would be so hot unbuttoned, with a drapey white tank, straight leg jeans, and some intense heels.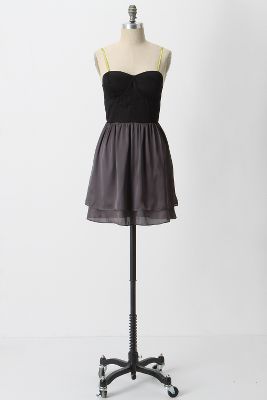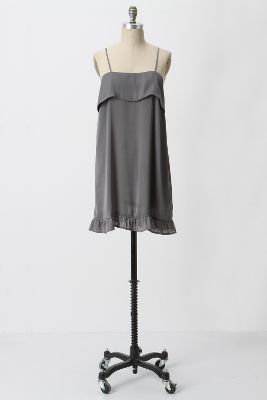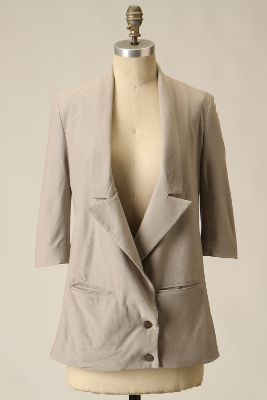 Windowpane Plaid Button-up, $128 at anthropologie.com, Likewise Vest, $68 at anthropologie.com, Askew Top, $68 at anthropologie.com: I have to be honest, I hate the oversized plaid tunic/button-up trend almost as much as I dislike the hipsters who wear them ironically. But this top is adorable. I think it's because the plaid is so subtle and a little grandpa-ish. That and the crinkled fabric make it look like you actually stole it from a guy, which is kinda the point. I'd wear this with slim jeans or a pair of tailored shorts to sharpen up the shirt. I like this vest better in black, but you can see the details in the grey picture. I've seen a lot of these knit, drapey vests around lately, and this is my favorite incarnation. It has just the right amount of volume in the front without being too overwhelming, and it ties in the back so your waist don't get lost in all that fabric. How cute would this be with a white v-neck, some dark wash jeans, and a tangle of chain necklaces? This t-shirt is so perfect. I never ended up getting a Kain top (epic sad face), so my need for a drapey white pocket tee has still not been satisfied. I like this one because it's less than $50, it's a little less sheer but still slightly see-through, the deep scoop-neck is a nice alternative to a v-neck, and I love the cutaway hem with the horizontal seams. That keeps the a-line cut from being overwhelming at your hips and helps the tee move really nicely.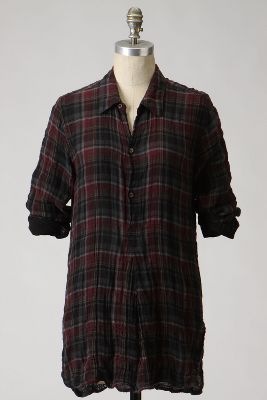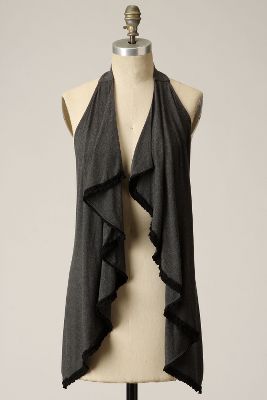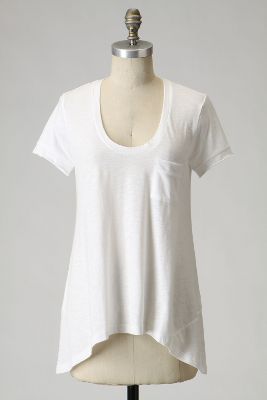 Studded Fete Dress, $298 at anthropologie.com, Sprinkled Chiffon Top, $128 at anthropologie.com, Jamison Zipper Motorcycle Sweater, $300 at shopbop.com: I'm so in love with this dress. From a distance it's very lady-like and a little demure, but when you look closer you can see that the waistline is detailed in studs and the skirt is slightly sheer. The boatneck is so chic, it's just the right length, and the black/grey color palette is so versatile that I can forgive the slightly bubble hem. I might like this top even better. It's also sheer, which is very on-trend, and in a muted, mushroomy-taupey-grey that I die for. The sheerness is balanced out nicely by the flowy, slightly baggy fit, and the splattering of crystals and rough edging at the neckline add a touch of deconstructred glamor that's not only seriously 0n-trend, but makes this top a total steal. I've been looking for a motorcycle sweater-jacket FOREVER. I mean, you get all the edge of a motorcycle jacket with all the cozy comfiness of a sweater. This one's a blend of wool and cashmere (SNUGGLE!), and I love all the extra zippers. The contrast of the hardware looks great against the black, and the shoulder detailing elevates the look and plays off the exaggerated shoulder trend.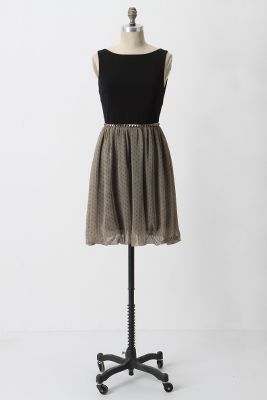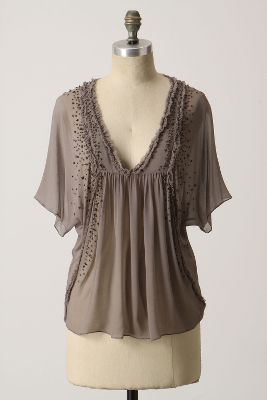 Ralph Lauren Polo Double Black, $69.50 for 4.2 ounces at sephora.com: Ok, I know it's a little weird, but there was a foldout tester thingy in my People magazine for Polo Double Black, and I may have sniffed it...and I may have rubbed it all over my arms. What....I'd never do that....I mean, I know it's a guy's cologne, but it smells amazing. And my roomie agrees, so I'm not crazy. The notes are spiced mango, coffee, nutmeg, vetiver, and cardamom. It has COFFEE in it. I'm dying. It's spicy and dark and highly addictive, and we might buy a bottle to spray on our clothes. I wish I was kidding.




Image Sources:
Corset Chemise: anthropologie.com, Viennese Waltz Chemise: anthropologie.com, Courting Lad Blazer: anthropologie.com, Windowpane Button-up: anthropologie.com, Vest: anthropologie.com, Askew Top: anthropologie.com, Studded Dress: anthropologie.com, Chiffon Top: anthropologie.com, Jamison Sweater: anthropologie.com, Polo Double Black: sephora.com.