Sorry for the late post guys, but I literally worked 10 AM to 9 PM today. I wish that was an exaggeration. But I have the day off tomorrow to go see Eclipse (I appreciate high quality cinema, of course) and be a vegetable, so I'm def looking forward to that. Anyways, on to today's post.
Kristen Stewart, Clairol Perfect 10 Haircolor in Medium Golden Brown, $13.99 at drugstore.com: Kristen Stewart has red hair! In theory I dislike this idea, but in reality, it looks fab on her. Of course, for the last two years, every time I've looked at her I've had serious hair envy about her auburn-tinged locks, so this isn't a huge jump. I've even considered dying my hair red, but I went with the Medium Golden Brown for summer. Lightening it up one shade from normal. I dream big, I know. But the real reason I brought this up is that I've noticed that for every person who says I have brown hair, there's another who'll say I have red hair. I was even called a redhead and told my hair looked like henna. WTF, mate? The first time I heard this I was so, so confused. The box says golden brown. Not red. These people must be colorblind. My natural hair color has warm undertones, and so does this dye, but red? No way Jose. But then I realized...under fluorescent lighting, like in my bathroom, my hair flashes red. Very, very red. I've never seen this in pictures, so I'm thinking it's strictly an indoor lighting thing. I'm just trying to figure out where this came from. Does red pigment stay around and build up in hair while the brown fades out? Where is all the red coming from?! Ack. It actually doesn't bother me because I considered dying it red, so I kind of like it. But have y'all had this problem before? Hair being different colors under different lighting/changing over time? What's the deal?
Taylor Momsen: I realize that it probably seems like I spend of a lot time on this blog giving Taylor Momsen, um, 'constructive criticism.' But damn, she just keeps getting worse and worse. I have nothing against artists dressing up and showing skin to make a creative statement. Lady Gaga eschewing pants? Bring it on. Rihanna and Beyonce opting for high concept bikinis in all their music videos? Why not. But the difference here is that Taylor is one, not a legal adult (AND SMOKING FOR CRYING OUT LOUD WHERE ARE HER PARENTS???), and two, making no statement other than she's a washed-up stripper from a Moulin Rouge cabaret with My Little Pony Extensions. Girl does not look 16 (more like 32), she resembles the offspring of a panda and a Barbie with a bad haircut than an actual person, and she is not wearing real person clothing. That corset dress leaves nothing to the imagination, and to top that off she's add thigh highs, garters, black underwear, and Lucite stripper heels with tip jar platforms. There's a point where being ironic just becomes sad. She doesn't look sexy or chic or pulled together in any way. She looks like a hot mess that desperately needs to have a heart to heart with her mother and her hairdresser.
Lanvin Fall/Winter 2010: Bottega Veneta, Chanel, and Lanvin always get my highest marks for best executed, most creative campaigns, especially Lanvin. I haven't disliked a Lanvin ad since this one, which is still on my wall and still gets me. I'm really liking the newest Lanvin ads. They aren't as high concept, but they are impeccably styled, and it looks like the panda liner is here to stay. I really like how he's put these ornate, very glam clothes in such a stark environment. It sounds jarring, but really puts the focus on the clothes instead of whatever else is going on.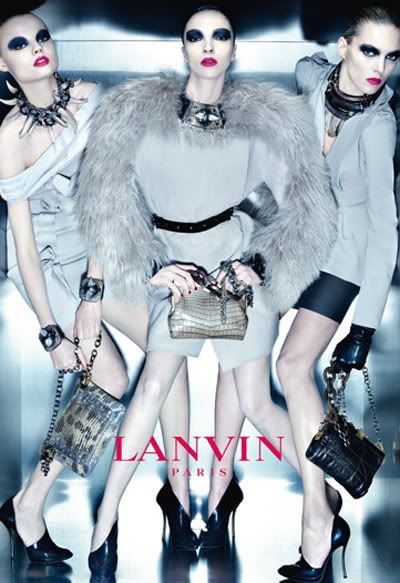 Laura Baillie Designs: Key Pendant Charm Necklace, $18 at etsy.com, Double Guns and Heart Necklace, $18 at etsy.com, Hamsa Charm Necklace, $18 at etsy.com: Y'all know that I love discovering new Etsy stores. For those of you that are confused as to why I seem to prefer Etsy for certain types of items instead of eBay, I'd explain the difference between the two as such: eBay is great for reselling vintage, selling off stuff you have in your closet, consignment, etc. Etsy is better for more custom stuff, or for smaller artisans selling their wares in a cohesive way. If you wanted to find a homegrown jewelry designer, I'd recommend Etsy. Here's my newest fave jewelry designer, who has a TON of adorable pendant necklaces for $18. You can get a whole lot of chic for less than $20, and international shipping is just $4 (since she lives in Scotland...). This little key necklace is a fab alternative to the Tiffany keys, the gun necklace reminds me of a Western take on Romeo & Juliet, and I have a serious soft spot for a hamsa necklace, which is a protective symbol from Middle Eastern religions.

Tuleste Market Flower Bracelet, $95 at shopbop.com: I wanted to end this post on a cute note, and how cute is this tuleste market bracelet? I mean, really now. The band looks like it belongs to a plain Jane retro watch, but then you have that giant, exuberant flower on top, and the lovely pop of contrast from the glass pearl. It's at once retro, boho, organic, and crazy chic. How could you wear that around all day without smiling? It's like an instant mood brightener.
Image Sources:
Kristen Stewart: glamour.com, Clairol Perfect 10: drugstore.com, Taylor Momsen: gofugyourself.com, Lanvin: designscene.net, Laura Baillie necklaces: etsy.com, etsy.com, etsy.com, Tuleste Market bracelet: shopbop.com.