It's been gloomy and to be honest, cold in LA for the last few weeks. But today, today it was 90 degrees! 90! I realize that I am a little too enthusiastic about that, but I love summer. It's so different from all the other seasons, and therefore needs its own category of beauty products. Scattered below are a few of the items that I've craving for the summer heat.
Bliss Slim and Bare It, $45 at sephora.com, Versace Versus $79 for 3.4 oz at sephora.com: It is officially summer (I don't know if it actually is yet, but it was 90 degrees today, so I'm declaring it summer whether the calendar likes it or not), and summer means swimsuits. And swimsuits mean I start spazzing about cellulite. While I've accepted it's existence, that doesn't mean that I'm going to leave it in peace. At all. So I'm wondering if anyone's trying this Slim and Bare It kit from Bliss. It has a circulation-enhancing scrub, and a caffeine-infused cream to work on cellulite by increasing blood-flow to the area and firming it up. It sounds like a good idea, which is why I'm wondering if it's too good to be true. Thoughts? I have more concrete feelings about this Versus perfume. Versus is the Versace diffusion line helmed by Christopher Kane, AKA best combo of all time. I really like the bottle. It's summery and funky but somehow a tad edgy and offbeat. The notes are kumquat, sweet star apple, lemon, orange flower, stephanotis, rose centifolia, patchouli, musk, and ambrette seeds. It's a slightly tropical floral with a nicely grounded, sultry base. Perfect for summer, but easy to wear year round, and the cheapest bit of Versace I've seen.
Sephora Favorites Eau Girl Scent Sampler, $40 at sephora.com, Sephora Favorites in Best in Bronze Deluxe Sampler, $39 at sephora.com: I'm intrigued by these Sephora samplers. They seem too good to be true. You get adorable mini-versions of all these items for a really great price, and the perfume samples don't come in flimsy little plastic bottles, they come in actual mini-versions of the real bottles. Perfect to sprinkle around your dresser! This would be a great gift for any girl searching for her signature perfume. The perfume sampler has Michael Kors Very Hollywood, Clean EDP, Calvin Klein Euphoria, Givenchy Very Irresistible, YSL Parisienne, Bulgari Omnia Crystalline, Gucci Flora, and Tocca Cleopatra. The bronzer sampler is along the same lines, but you get pretty good-sized bronzer samples and bronzer-related products, like nail polish and highlighters. The giant Korres bronzer in the back is full-sized, and for $10 more than the price of the bronzer you get all those other samples. That's a pretty good deal! This sampler has Bare Minerals All Over Face Color in Faux Tan, Josie Maran Argan Bronzing Oil (been meaning to try for fo EVA), Lorac Tantalizer Baked Bronze in Golden Bronze, Too Faced Pink Leopard Bronzing Powder, Sephora nail polish in Bright Red, Benefit High Beam (loves), TEMPTU RETOUCH Highlighter in Gold, Smashbox Artificial Light Illuminating Lotion in Glow (so hard to find and LOVES), Tarte EmphasEYES Waterproof Clay Shadow Liner in Bronze, and Korres Monoi Oil Bronzing Powder in Sunglow Light. This is def my new go-to summer birthday present.
OPI for Sephora Polish in Queen of Everything, $9 at sephora.com: My nail goals for this summer are orange-red-coral, which I think I've waxed poetic about enough, and metallic polishes. For some reason, metallics feel particularly of the moment, and they're an interesting alternative to shimmer. Who doesn't want to walk around with golden nails? It's like perpetual bling! On your fingers! That makes no sense, but I want it.
ORLY Cosmix Collection, drops September 2010: I know my shimmer like any other magpie-esque beauty blogger, but this ORLY polish...I have no words for it. It's practically holographic. It's not shimmer. It's FIRE and duochrome and sparkles and just general OMG amazingness. Of course, ORLY is playing sick mind games with us all and not releasing these polishes until September. Evil. Pure evil. I don't even like blue-green polishes and that teal is blowing my mind.
Amanda Deer Tiny Hand of Fatima Necklace in Sterling Silver, $22 at etsy.com: I've been craving a Hamsa necklace for a while now. Aside from the more spiritual connotations, I just find them so pretty and peaceful. This one is exquisitely tiny, so you could wear it pretty much everyday, and that hint of sparkle keeps the little silver pendant from getting lost on your neck.
All Herve Leger dresses, $599.99 at ebay.com, $579.99 at ebay.com, and $879 at ebay.com: As part of my 'buy things that actually flatter my body type' movement, I've been re-evaluating my wardrobe, and I've realized that it's sorely lacking in the bandage dress department. I've wanted a Herve Leger dress FOREVER, and the only thing standing in the way of my living in one 24-7 is the price tag. Oh, that Herve Leger price tag. There are always so many extra zeros at the end of those. Of course, I would never let anything like reality stand in the way of my wardrobe, which is why eBay exists. Less than $600 for one of these dresses? Not perfect, but much more realistic. This basic black dress has always been my favorite, but then there are always the more festive versions, like this ombre one-shouldered number, and this gorgeous metallic corset dress.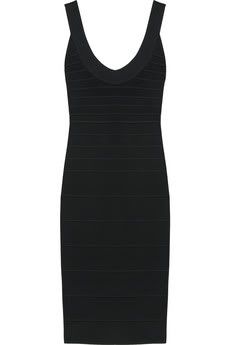 Image Sources:
Bliss set: sephora.com,Versace Versus: sephora.com, Sephora bronzer sampler: sephora.com, Sephora perfume sampler: sephora.com, OPI for Sephora swatch: makemeblushhh.com, ORLY collection: temptalia.com, Hamsa necklace: etsy.com, Herve Leger dresses: ebay.com, ebay.com, ebay.com.