So I lied about today being better. I am SO scatterbrained today, and I apologize. This week is complete crazy times.
Taylor Swift, Lancome Spring Showers Juicy Tubes Gloss Set, $36 at sephora.com: Taylor Swift doesn't usually dress this 'risque,' if that's what you want to call it, but I really love this lavender dress on her. The backless cut does show a lot of skin, but I think the a-line skirt and wholesome hair/makeup keep it from being too sexy for her image. Perhaps her image is evolving? Interesting. On a totally unrelated note, I'm really feeling this Juicy Tubes set. First off, the packaging is precious (and totally realistic about Boston weather at the moment), and second off, it's a really great value compared to how much Juicy Tubes normally cost. The colors are Dancing in the Rain (love), Spring Daze (double love), and Sun Comes Out (love less, but still). Juicy Tubes are just the quintessential lip glosses--they're pigmented, glossy, but not too sticky, and last forever.
Madewell Ellie Girly Tunic, $98 at shopbop.com, Jo Malone Nectarine Blossom & Honey Cologne, $100 for 100 ml at jomalone.com: I would totally wear this top to Coachella if I could be there right now. It's a little hippie, a little retro, and very light and chic without showing too much skin. The ditsy floral pattern is a great contrast to the petite ruffles and belled-sleeves. I stumbled across the Jo Malone cologne on Makeupalley, and I wants it. I've always had a soft spot for Jo Malone because their packaging is so element and their scents are really clean and refined, but I've never found a scent that was really 'me,' I guess. Nectarine Blossom & Honey sounds perfect. The notes are nectarine, peach, hints of plum, blackcurrant, vetiver, and acacia honey. I want a summer fragrance that's fruity, but not saccharine sweet, and honey is pretty much my favorite scent ever, so this sounds like basically Heaven. I will sniff and report.
Nyx Jumbo Eye Pencils in Yogurt and French Fries. I've still been watching YouTube tutorials obsessively, and these NYX Jumbo Eye Pencil things have been popping up a lot as inexpensive bases. They come in a wide range of colors and I love the oversized pencil packaging (so easy to work with). Yogurt is a pale, warm, frosty pink, which sounds terrible but looks gorgeous swatched. I'm really warming up to the idea of a warm pinky-gold for the eyes as a way to bring out the green in hazel eyes. French Fries is a bronzey, metallic brown that looks so, so lovely in a brown smokey eye. I'm very into bronzes for summer, and I'm seriously craving this. I'm going to try to find these at CVS and left y'all know what I think.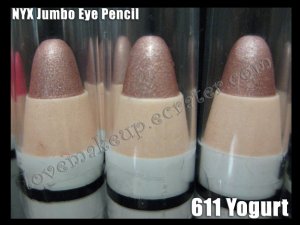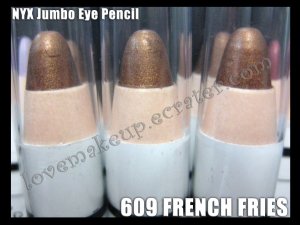 Image Sources:
Taylor Swift: nymag.com, NYX french fries: ecrater.com, NYX yogurt: ecrater.com, Madewell top: shopbop.com, Jo Malone cologne: jomalone.com, Lancome Juicy Tubes: sephora.com.