I've been watching an excessive number of YouTube beauty videos (no, really, it's a problem), and 90% of the time that I really love a look, there's a MAC pigment involved. I've never actually used a pigment, but I've seen them used as eyeshadows, highlighters, bronzers, blushes, pressed into solid shadows, turned into lipglosses, even nail polishes. After looks of staring the MAC website, I've picked out a few pigments that I'm really dying to try out.

MAC Pigment in Tan, $19.50 at maccosmetics.com, and Dark Soul, $19.50 at maccosmetics.com: I've seen Tan used in so many different tutorials to get so many different looks. It just seems like a really versatile, warm, shimmery brown. It really reminds me of summer, for some reason. Dark Soul is like my dream shadow, a dark, sparkly black. I'm always hesitant to put black shadow on my eyes, and I feel like a shimmery black shadow would be so much more fun and much easier to wear.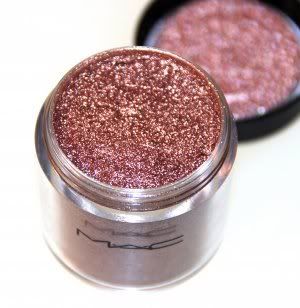 MAC Pigment in Melon, $19.50 at maccosmetics, and Blue Brown, $19.50 at maccosmetics.com: Melon is a bright, warm gold with a hint of brown. Like Tan, it definitely screams 'Summer!' and seems like it waould make a great base for a going out look. You could mix just a teensy bit with some body lotion for a really lovely golden glow. Blue Brown is such an interesting color, a brown with blue duochrome. It reminds me of Club eyeshadow, but blue instead of green. I think it would really pop over a dark brown or black base for an interesting twist on the smokey eye look.



One coat of Don't Be Koi with Me, $7.99 at beautyencounter.com, OPI Dress To Empress, $7.99 at beautyencounter.com: I got inspired by my polish mixing experiment last week, and I really wanted a festive color on my nails. I layered a coat of OPI's Dont Be Koi With Me under a coat of Dress To Empress (love that name). It's really similar to what I did last week, but a little orangier and with a bit of sparkle. Dress to Empress is a semi-sheer orangey-red with a good dose of sparkle, and Don't Be Koi With Me is a bright, but not neon orange. I really like this color, and I think it'll work even better once my Jergens self-tanner kicks in (by the way, the foaming Jergens I got last week is AMAZING). Sorry I fail at taking pictures on my Mac.



Bliss Vanilla + Bergamot Butter Body Maximum Moisture Cream, $28 at sephora.com, Phyto Phytodefrisant Botanical Hair Relaxing Cream, $31 for 5 oz. at sephora.com: My skin has been so dry lately--I think it's the bipolar weather. I need really deep moisturizers, but also ones without really intense, overwhelming scents (I have a really sensitive stomach). This Bliss lotion sounds perfect. Vanilla and Bergamot is pretty much my Holy Grail scent combination, sweet and spicy with a hint of citrus, and I know Bliss lotions are crazy rich. I think it's also due to the weather, and probably my plethora of split ends, but my hair has also been really dry. I think once I run out of my Bumble and Bumble Brilliantine I'm going to switch to this Phytodefrisant instead. It's a lot cheaper per ounce, and I've tried it in store, and that stuff is MOISTURIZING. It won't make your hair greasy or heavy, it just makes it so happy. Also, it's supposed to help keep your hair straight if you use a flat iron, which I basically do every morning.



Smashbox Eye Illusion, $28 at sephora.com, Philosophy Apricots and Cream Shampoo, Shower Gel, and Bubble Bath, $16 for 16 oz. at sephora.com: I'm so intrigued by this product. I thought they were all white-ish corrector shades, so I never went near it, but apparently they're all semi-sheer metallics made to be layered over dark colors. The pink will give any hue a pink metallic cast, and same for the blue and yellow shades. You could create such interesting colors with this product! How gorgeous would the yellow be over a matte black? Or the blue over a dark brown? And of course, any time there's a new Philosophy scent I'm all over it. I'm actually kind of an apricot freak (I LOVE them) and so the idea of an apricots and cream shower gel is killing me. I've been meaning to buy a Philosophy shower gel for a really long time, and this might be my introductory bottle.



Alpha Omicron Pi Jerzees Hooded Sweatshirt, $34.99 at somethinggreek.com: On a random, personal note, if anyone else is in a sorority and looking for a good place to get customized letters from, I really recommend somethinggreek.com. They have a really wide range of products that you can get your letters sewn or printed on (everything from American Apparel, totes, sweats, tees, workout shorts, you name it). You can pick the color or the pattern of the letters (they have a ton of printed fabrics to choose from, and even metallics/glitters), the border color around the letters, and the color of the article of clothing itself. As you can see, I'm in AOII. :)


Image Sources:
MAC Pigments: Tan: ioffer.com, Dark Soul: makeupalley.com, Melon: starsmakeuphaven.com, Blue Brown: starsmakeuphaven.com, OPI Don't Be Koi With Me: beautyencounter.com, OPI Dress to Empress: beautyencounter.com, Bliss lotion: sephora.com, Phytodefrisant: sephora.com, Smashbox Eye Illusion, $ at sephora.com, Something Greek sweatshirt: somethinggreek.com.