It's been a long, weird, stressful week, and I'm apologizing for how random and/or nonsensical my posts have been. And unfortunately this one probably won't be any better on that front. We've got some lovely pieces from J. Crew, a piece sparkles and accessories, and quite possibly my favorite Taylor Swift look ever.

J. Crew Ombre Horizon Coat, $595 at jcrew.com, J. Crew Clustered Constellation Cardigan, $168 at jcrew.com, J. Crew Keaton Tuxedo Cardigan, $118 at jcrew.com: I heart ombre. It's one of the only appropriate, grown-up ways to wear tie dye, it has this casual dip-dye feel to it, and the minimalist lines of the coat take all away the possible hippie vibes. The cut on it is so genius--you get the boxy, menswear feeling, but it hits high enough on the hip not to be overwhelming or unflattering, and I love me a 3/4 sleeve. J. Crew does sweaters so, so well. Take these two for example. They hit at two totally different ends of the spectrum. This off-white cardigan, with the bead/sequin embellishments, is refined but fashion forward femininity at its best. The tone-on-tone bling is subtle, but still eye-catching, and there's cashmere involved, so it's an all around winner. Whereas this tuxedo cardigan is a great, girly take on the guys jacket. I love the idea of wearing a tuxedo jacket, but they can be a little heavy and hard to work with proportions wise. Making the tuxedo into a cozy sweater makes it much more flattering, while still not trying to be too sexy, and makes it an even more versatile, fantastic layering piece. Do want.



Banana Republic Tassel Lounge Necklace, $42 at bananarepublic.gap.com, J. Crew Metallic Tweed Charmed Mini Bag, $198 at jcrew.com, Toscana Shearling Earmuffs, $98 at jcrew.com: I guess I've really been feeling tassel necklaces lately. There's something so bohemian and yet insouciantly chic about the way they drape that feels so right for right now. This Banana Republic version is a very affordable option, and the beads add a bit extra flair. I love, love, love this J. Crew bag. It has such a Chanel feel without seeming like a blatant Chanel rip off. The slightly sparkly tweed would transition effortlessly from day to night, the long shoulder chain adds a little edge and makes the silhouette very on-trend, and the beads are a nice, unexpected touch. This is one of those things that I would randomly buy and end up using all the time, I swear. When I end up succumbing and getting a pair of ear muffs this winter, they're going to look just like this. If I'm going to have to wear such an awkward accessory, they're going to be Ali McGraw snow bunny chic. The drama of the ear coverings against the sleek headband is exquisite, and that color palette just kills me.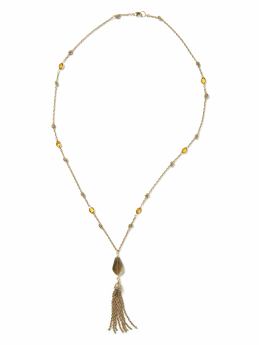 Torn by Ronny Kobo Olivia Crystal Mini Dress, $440 at shopbop.com, Gemma Mya T Shirt, $130 at shopbop.com, Tuleste Market Rosette Earrings, $75 at piperlime.com: Sequin LBDs are hot. One shouldered dresses are fab. Long-sleeved minis are insane right now. Combining all three of those things into one dress kind of makes my brain want to explode. It's so '80s glam robot chic (yes, I just made that combination happen). Trompe l'oeil details are one of my favorite things on tops. They're witty, which is surprisingly rare in ready to wear fashion, they make accessorizing effortless (literally), and there's something very gothic and yet elegant about this faux black necklace. Plus, the length is perfect for it to be worn un-tucked or tucked into a high-waisted skirt. I'm actually getting my ears pierced in two weeks! For reals this time. And so you know I've already shopped all over for earrings. I'm really feeling simple, but festive, studs for the first few months (it's probably all I'll be able to handle). The rosettes are just so adorably feminine, and would be absolutely precious peeking out from under your hair, and the shiny metal finish takes the cloying edge off the floral shape.



Taylor Swift can WORK a red carpet. She doesn't exactly take a lot of risks, but she has her look down to a T and she knows what looks good on her. I love this Reem Acra dress on Taylor. It's the right mix of Glinda the Good Witch, with the flowing tulle skirt, and slightly edgy glam with the blinged out bodice and sequin slivers down the skirt. It fits absolutely perfectly, and the cut is so, so flattering. Major props.



Image Sources:
J. Crew ombre coat: jcrew.com, J. Crew cardigan: jcrew.com, J. Crew tuxedo sweater: jcrew.com, Banana Republic necklace: bananarepublic.gap.com, J. Crew bag: jcrew.com, J. Crew earmuffs: jcrew.com, Torn dress: shopbop.com, Gemma top: shopbop.com, Tuleste Market earrings: piperlime.com, Taylor Swift: glamour.com.