I know I promised outfits awhile ago, and I'm finally delivering! I know, I know, I'm slow.

So I got my boots, and OMG, these boots. This color's sold out on the Frye website at the moment, and I can't seem to find it anywhere else...sad face. But I love these boots to death. You can just tell that they're really well-made. The leather is so rich and supple, but also strong enough to stand up by itself and not get all slouchy. They actually seem pretty durable--I'm really clumsy and clunk around, but these don't have any scratches on them. They're super comfy, and seem to run true to size, but the calf is a little on the narrow side. It's 14 inches around, and my calves are 13 inches, and I wouldn't want the calves any smaller. These hit a couple inches below my knees, but I'm 5'8' and have longish legs, so they'd probably be knee length on a lot of people. I love the riding/cowboy boot details, the slightly upturned toe, the dip in the cuff, the pull-on straps (which are just for looks because these are really easy to get on). I'm seriously over the moon happy about these, I haven't taken them off, and I highly recommend them to everybody.



Here are two ensembles I've worn recently that revolve around the boots. The lighting sucks, but the first one is a Forever 21 tee (that necklace detail is made out of forks. hehe), a H&M belt, American Apparel skirt, and the boots. The second outfit is a Love Quotes scarf, American Apparel v-neck and skirt, H&M belt, Target tights, C&C California cardigan, and boots. The boots work so many different ways!


On an unrelated note, there's a fab flea market in LA once a month: the Rosebowl Flea Market. I dragged my mom out there with me yesterday, and I picked up a few things. This necklace has a serious Marie Antoinette vibe, with the fleur-de-lis and the ornate gold detailing. You guys know I'm a sucker for anything Marie Antoinette related, so I plan on wearing this ALL the time. I also got this scarf ($4!) from India. How cute is that festive lotus print? There's something so exuberant and yet so calm and refined about it at the same time. It'll be a breath of spring sunshine when I go back to Boston next week.



So while I'm talking about flea markets, I thought I'd give you guys a few pointers about shopping there if you haven't before. Flea markets can be full of fantastic vintage pieces, but they can also be crazy and overwhelming and full of junk. Personally, I think it's easier to go in with at least an inkling of what you're looking for. Even if you aren't looking for a specific piece, here are a few flea market guidelines:

-Flea markets are a great place to buy sweaters and tops. Sweaters and tops have very few measurements involved in getting them to fit correctly, so they're easier to buy without trying on. I know it sounds weird, but I've seen so, so many thick, old school cashmere sweaters for less than $50 at flea markets. I got a grey, Saks brand, made in Scotland cashmere sweater that's so thick I can wear it and a tee in 30 degree weather and be hot (I've honestly never felt a cashmere sweater that thick, it's very old school), in a men's small, so it has a bit of a boyfriend vibe to it, for $18. EIGHTEEN DOLLARS. You can't even get a cashmere sweater at Walmart for that price.
-Flea markets are not a good place to buy pants. Pants have so, so many different measurements and even shopping in stores it's hard to find a pair of pants that fits perfectly. You usually can't try clothes on at a flea market, so unless you're willing to spend a lot of money with a tailor, don't buy pants at a flea market. Skirts are easier, simply because there are less measurements involved. I found a vintage Chanel skirt for $2.50 at a flea market. But even with skirts, make friends with a tailor.
-Flea markets have tons of great accessories, especially scarves and jewelry. You can get fantastic scarves at flea markets for less than $5, and scarves are a great way to jazz up a basic outfit. If you're not set on real gold jewelry with real gems, flea markets are full of antique and costume jewelry that's insanely affordable. And prices are often negotiable, especially at the end of the day. Also, vintage sunglasses are all over the place at flea markets, and a lot of the time these are actually authentic. I had a fab pair of vintage Dior frames that I loved to death...until I lost them. :(
-But flea markets have lots of fake designer bags. A lot of the time you look at a vintage bag and assume that since it's vintage, it must be authentic. Not always true. I'd say 95% of the designer bags at flea markets are fake, so just know that going in.

Markus Lupfer Hello Sailer mini T-shirt Dress, $170 at net-a-porter.com, OPI Mad as a Hatter, $8.50 at thebeautyclutch.com, Stila Smudge Pot in Kitten, $20 at sephora.com. I'll admit, this shirt is insanely cheesy. But I also find it totally hilarious at the same time. I think if you could wear this with a sense of humor and style it with streamlined, edgier pieces that it could totally work and not be over the top. I think you guys know how much I love Alice in Wonderland, so I'm predictably crazy about OPI's new Alice-themed polish collection, especially this polish, Mad as a Hatter. It's a clear base with a TON of round, rainbow colored glitter. It just looks so happy! Since the sparkles are so small it's not overwhelming or cheesy, just unapologetically fun. So last week I picked up the four mini Stila smudge pots, and so far I've tried Starry Night, the navy with shimmer, and Kitten, this sparkling champagne nude. The navy was less than awesome. The color looks so vibrant in the pot, but on my eyes it seemed dull and lifeless. It look a lot of product to get an sort of definitive line (poor pigmentation) and it seemed to drag, making it hard to get a clear line. Kitten, on the other hand, is fabulous. It's my new favorite base shadow. It's shimmery and light, doesn't add too much color to my eye, doesn't smudge or smear, and really lasts all day. This smudge pot is actually really pigmented, so you only need a tiny bit to cover the entire lid. I've officially converted to the Kitten worship.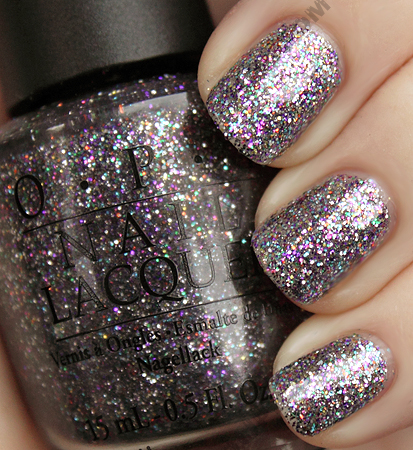 Image Sources:
Markus Lupfer tee: net-a-porter.com, OPI polish: alllacqueredup.com, Stila smudge pot: makeupandbeautyblog.com.