One of the things that I love, love, love about online shopping is being able to find quirky, offbeat brands that you would never find in a store. The interwebs are so useful. Anyways, I stumbled across Bittersweets NY, a seriously awesome little jewelry brand. Their aesthetic is equal parts organic, dark, and quirkily sweet. Bittersweet is also one of my favorite adjectives, so obviously I love them (yes, I am that nerdy). Here are some of my favorite pieces.

Heart & Arrow necklace, $395 at bittersweetsny.com, Monogram ring, $125 at bittersweetsny.com: This necklace makes me smile, with the arts and craftsy heart and the skinny little arrow. I'm really feeling horizontal pendants right now, just for a change of pace, and the heart is actually big enough to slip over the arrow for extra cuteness. It should be over the top and cheesy, but the delicacy of the pendants and the chain keep it chic. I've had a change of heart about monograms. I used to think they were nerdy and unnecessary, but now I think they add a sweet, personal touch to things, especially when done discreetly like in this ring. You could do your initials, you could do someone else's initials, and there's something so elegant about how teensy tiny this ring is with the cursive initials. It's very Victorian, but the slight asymmetry of the ring keeps it modern.



Feather Necklace, $595 at bittersweetsny.com, Little Beating Heart Charm, $65 at bittersweetsny.com: The pendant on this necklace is two tiny feathers. I love feathers! There's something so whimsical about them, and they're hinged, so they'll move when you move. So cute. With the thin chain, the overall effect is so delicate. This anatomical heart charm is so weird, which is why I like it. This would be such a hilarious Valentine's present (0ooh), because it has the same sentiment as a heart, but it's much more interesting and much more unique, which is a great quality in a present.





Earthworm ring, $675 at bittersweetsny.com, Baby Vamp Rings, $195 at bittersweetsny.com: That ring is an earthworm with a diamond! So cool. An earthworm! Ok. I like that it almost looks like a claw, and that the diamond looks haphazardly nestled between the ridges of the earthworm. This is the kind of piece that completely makes an outfit. These vampire rings are my absolute favorite pieces. Obviously, I am a vampire nerd, and these interlocking vampire teeth rings are making my day. It's a really discrete way to show your True Blood (or Twilight, I guess) love, and it's such an offbeat, edgy statement done in such a chic, simple way. A+, Bittersweets.



Update: Bittersweets is offering you guys a 10% discount if you type "discount" in at checkout. As if y'all needed more of a reason to shop. :)

So I've just started watching Big Love (aka the polygamist show), and aside from totally loving it as a show, I'm developing an obsession for floral prints of all sorts. This is also fueled by the upcoming Liberty of London collaborations, which are KILLING ME with the wait.

Kimchi Blue Chiffon Wildflower dress, $58 at urbanoutfitters.com, Patterson J. Kincaid Los Angeles Zip Tank, $98 at shopbop.com, Forever 21 Blossom Ruffle Skirt, $14.80 at forever21.com: I love florals when they're toughened up a bit, like how these first two pieces have zippers down the back. The cut of this first dress is so '90s, which is so perfect for right now, and it's the kind of easy but flattering piece that you could just throw on and go. This floral tank has tiny buttons down the front and is slightly sheer, so it ties perfectly into the lingerie trend for spring. It would be so perfect with a lacy black bra and tucked into a high-waisted skirt. The Forever 21 skirt is perfect if you don't want to drop a lot of money on the ditsy floral trend (less than $15! Total steal). It's an easy to wear, versatile piece that would liven up any basic tees or tanks.



Floral Sundress, currently $19.99 at ebay.com, Liberty of London Ocean Peacock tee, currently $65 at ebay.com, Pink Phoenix scarf, $196 at liberty.co.uk: Speaking of '90s florals, this is the perfect example (I think it's actually '90s, too). I love these floral sundresses. They so remind me of Sookie from True Blood (two mentions in one post, I know), and they have an adorable, Southern belle vibe to them. The slipdress cut of this and the buttons down the front have a bit of a boudoir vibe, which is also so on trend. Now, when I think of florals, I immediately think of Liberty of London. This shirt isn't floral, but it is insanely awesome. Peacock feathers are such an unexpected print, and there's something so decidedly glamorous about it, even though it's on a tee. $65 is a really good price for Liberty, too. It's hard to see in this pic, but the print on this scarf has tie dye-ish phoenixes and deer and lions on it. So you could wear it more open to show off the print, or you could fold it up like it is in the picture for an indistinguishable but intriguingly awesome pattern.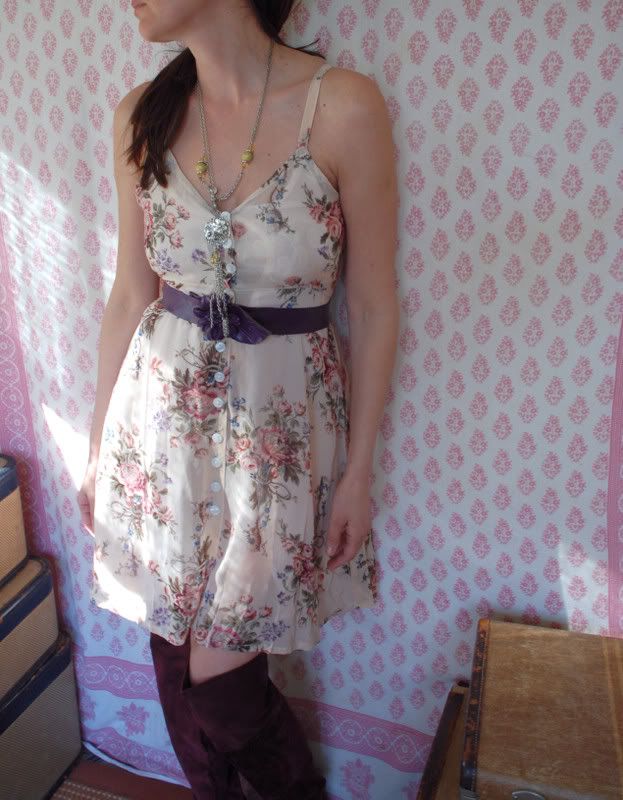 Image Sources:
Bittersweets jewelry: heart & arrow necklace: bittersweetsny.com, monogram ring: bittersweetsny.com, feather necklace: bittersweetsny.com, heart charm: bittersweetsny.com, earthworm ring: bittersweetsny.com, baby vamp rings: bittersweetsny.com, Kimchi Blue dress: urbanoutfitters.com, Patterson J. Kincaid tank: shopbop.com, Forever 21 skirt: forever21.com, floral sundress: ebay.com, Liberty tee: ebay.com, Liberty scarf: liberty.co.uk.