I have a running list on my phone of things that I'm allowed to buy whenever I'm out. I realize that sounds silly, but it's how I keep myself from keeping crazy impulsive buys or forgetting to buy things that I actually need. I highly recommend doing this if you're like me and have a chronic ability to forget basically everything. Anyways, I thought I'd share what was on my 'to buy' list at the moment. A lot of this stuff you'll probably recognize from previous posts, and I took out the really random things, like new phone cover and replacing my missing bikini top.
American Apparel Interlock Pencil Skirt, $32 at americanapparelstore.com, Longchamp Le Pliage Tote, J. Crew 3" Chino Short, $39.50 at jcrew.com: I have this skirt in the mini version, and while I love it to death, it's a little short to wear while the sun's out. I've been eying this longer version as an alternative to my mini. Maybe I'll get it in navy, and then tuck floaty little tanks into it or throw on bigger shirts like a men's button-up or a baggy v-neck over it. I'm not a fan of using Longchamp totes as actual purses all the time, just because they're canvas and totes aren't meant to be real bags, but to carry my books around school they're perfect. Since pretty much every girl at my school has one, I'd like to get one with some sort of print on it, like this Eiffel Tower version. It adds a bit of quirky flair to an otherwise neutral bag. I realize that I've posted these shorts about 600 times, but I really do need a nice pair of structured shorts for summer, and as soon as I have actual money in my bank account, I'm picking these up. The 3" inseam is short enough to be cute but not so short that they aren't decent, and I'd go for a dark neutral, just because white/pale shorts are pretty much the least practical thing ever.
MAC shadows in All That Glitters and Beauty Marked, both $14.50 at maccosmetics.com, Frye Jacey Studded Huarache in Cognac, $138 at fryeboots.com: The things that take up the most space on my 'to buy' list are definitely MAC shadows. I think there are about six on there at the moment, but these are the two I'm most interested in. I want a nice, shimmery beige to use as an all over lid wash, and All That Glitters fits the bill perfectly. I also need a dark color to add some smoke to my smokey eyes, and I think Beauty Marked might be a nice alternative to the usual black or dark brown, and the hint of fuchsia shimmer would contrast nicely with the green in my eyes. On an unrelated note, I really want an interesting pair of flat sandals for summer. I have more flip flops than any girl needs, and I can't justify buying another pair of gladiators. I'm really feeling these huaraches. They have a really organic, craftsy feel to them, and since they're Frye, they'd last me forever.

J. Crew Cotton Pimm Skirt, $64.50 at jcrew.com, Twistband Hair Ties in Neutral Solids, $10 at thetwistband.bigcartel.com: I really want a pleated skirt for summer/fall. The only problem I have with them is that while they're really on-trend, I wore khaki pleated skirts to school everyday for the last nine years, and khaki is the color of choice for next season. The way that I think I could do this trend without feeling like I was late for school would be do it in a non-neutral color with softer pleats, which is where this J. Crew skirt comes in. The elastic waistband makes it crazy comfy and highlights the waist perfectly, and the pleats are noticeable but not schoolgirl sharp. These Twistbands have been on my cravings list for a while now. My hair is finally actually long enough to pull into a sizable ponytail, and I want something a little more festive than the usual elastic band. Twistbands are something you could probably make yourself for less than half the cost, but they're so pretty and they come in so many colors that I could totally justify buying them. I like this neutral 5-pack as a starter set.
NYX Jumbo Eye Pencil in French Fries, $2.75 at ecrater.com, NARS Multiple in Lamu, $38 at sephora.com: I just posted about this NARS multiple, so I won't wax poetic about that again. It's hard for me to track NYX down, but I've heard such great things about their eye pencils. French Fries is this gorgeous golden-bronze color that would be so perfect for a smokey summer eye.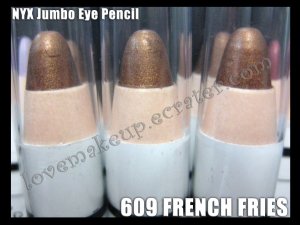 MUFE Aqua Eyes Liner in 23L, $17 at sephora.com, D&G L'Imperatrice EDT, $65 for 3.3 oz at sephora.com: I also just blogged about this MUFE liner, but just to recap, it's a lovely pale golden-pink that would brighten up my inner corners and lower waterline perfectly. I'm really weird about perfumes. I tend to use them over and over until I really can't stand wearing them anymore. So I love my Coco Mademoiselle, but I really need to switch it up. I've tried on this D&G EDT a bunch of times, and I think I'm in love. The lasting power isn't great, but you get so much for the price that I'm okay with that. The notes are rhubarb, kiwi accord, red currant, pink cyclamen, watermelon, jasmine, musk, sandalwood, and grapefruit wood, but what it really comes across as is peach. A sort of musky, almost standoffish peach, not an overly sweet super friendly peach. It sounds weird, but it's summery and unique and sexy without being too generic or boring.
LUSH Honey I Washed the Kids Soap, $7.95 at lushusa.com, Ray-Ban Classic Aviators, $139 at nordstrom.com, OPI Polish in Cajun Shrimp, $3 at amazon.com: So I've made it my mission to get my butt into a Lush sometime soon, and I think the first thing that I want to get to ease myself into Lushness is soap. Their soaps look and smell amazing, and I could definitely use a luxurious soap to work into my shower routine. Honey I Washed the Kids smells just like honey, one of my favorite scents, and has honeycomb on top for a little exfoliation. I really love my Ray-Ban Wayfarers, but I'd like to mix it up and get some Ray-Ban aviators. First off, I love Top Gun, and these are so, so Top Gun (just realized that all my sunglasses have been featured in Tom Cruise movies. Wayfarers = Risky Business. Weird). I've tried them on, and they actually work with my face shape, which is such a rarity that I can justify getting them for that alone. I think I've posted OPI's Cajun Shrimp at least five times, but I'm actually gonna get it this time, I promise. It's the perfect summer mani/pedi color, a bright orange-red creme.
And tickets to Prince of Persia when it comes out in a week. No one needs to judge me for this, I've already judged myself excessively, don't worry. I just have an obsession with movies like this and The Mummy, aka historical action dramas full of pretty people.
Image Sources:
American Apparel skirt: americanapparelstore.com, Longchamp tote: longchamp.com, J. Crew shorts: jcrew.com, MAC All That Glitters: bargainsalonproducts.com, MAC Beauty Marked: myspace.com, Frye sandals: fryeboots.com, J. Crew skirt: jcrew.com, Twistbands: thetwistband.bigcartel.com, NYX Eye Pencil: ecrater.com, NARS Multiple: sephora.com, MUFE liner: sephora.com, D&G EDT: sephora.com, LUSH soap: lushusa.com, Ray-Ban aviators: nordstrom.com, OPI polish: amazon.com, Prince of Persia trailer: youtube.com.