BLOGGER FAILS. Blame the LSAT. That's what I've been doing (for all my problems...ahem). To apologize, I thought I'd share two of my favorite things for workouts--booty shorts and noise isolating headphones.
I'm a bit of a gym junkie--I like to go 5 days a week--so having workout clothes that fit, are comfy, actually work while I'm working out, and look cute is important to me. I was given a pair of these shorts about 8 months ago, thought they would be way too short on me, and promptly forgot about them. However, when it started to get ridiculously hot in Boston a few months back, I was rummaging around for something to wear to the gym without passing out on the way there. These shorts and I then became best friends.
They're $48 at lululemon.com, but I would recommend going into the store because they have wayyyyy more options than the website does (their website is always sold out of things!). I got a pair in black with a black waistband on one side and a grey/pink waistband on the other. I know $48 is a ton for workout shorts. I hate spending money on workout clothes--all I do is sweat on them! I've had the same beat up tennis shoes for like 6 years. They look horrible. But I'm buying another pair of these shorts, and that says something.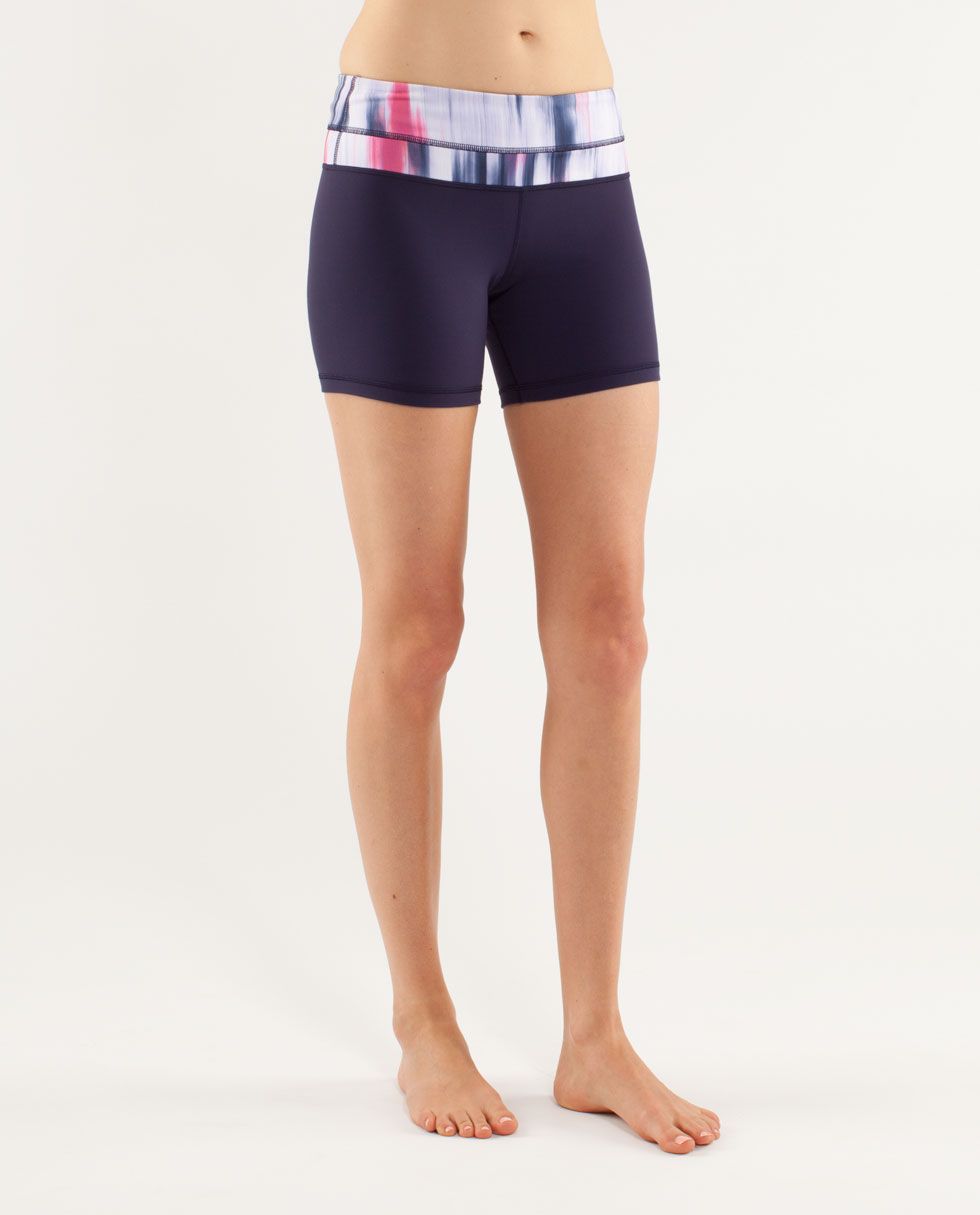 So, reasons these are amazing. They are the comfiest piece of clothing I own. I actually wear them around the house even if I'm not planning on working out. The waistband hits at a nice place on the hip, eliminating all chances of muffin top. The length is good, just short enough to be easy to run around in, not so short as to be indecent (for reference, I'm 5'8', and these don't ride up). They also make a longer pair if you like your shorts less, well, short. And to top it all off, I've been working out in these multiple times a week, and they're barely showing any signs of wear. AND! I convinced a friend to buy a pair, and she loves them too, so it isn't just me, I swear.
JVC Riptidz Headphones, $7.39 at amazon.com: My Apple headphones broke the other day (and they were my FIFTH PAIR. Also they SUCK. I hate Apple headphones. End of rant.), and I needed a new pair for my workout today, so I picked up these babies at my school bookstore. I bought them in bright purple, because apparently I'm a child. Anyways, these are great! They're less than $10, fit into all my Apple products, and come with three sizes of adjustable ear pads. I ran with them in, and they didn't even come close to falling out, and the sound quality is excellent. But my favorite part is that they fit into the ears so nicely that they basically act as noise canceling headphones, meaning that I don't have to turn whatever I'm listening to up as loudly to hear it (aka saving my delicate little ear drums).
Recap: Buy these awesome comfy booty shorts and super cheap but effective headphones, be happy at the gym.