One of the tricks about studying abroad is that you can't pack your suitcases with multiple bottles of your favorite beauty products (unless you want to pay some crazy overweight baggage fees). I've started to use up some of my US favorites, and I've been scouring the Spanish beauty shops for replacements. I've struggled the most with hair products. I have very thick, very shiny/slippery straight hair with no volume, no texture, and dry ends. I usually use a mousse for volume, a salt spray for texture, and a serum for my ends. However, I ran out of the last two and couldn't find an affordable European alternative...until I ran across this little guy:
Nelly Biphase Conditioner, about 3.50 euros in Spain: I've never used a leave-in conditioner before, but this was so much cheaper than all the imported Garnier Fructisse and Pantene products that I had to grab it. Nelly is a Spanish beauty company, so if you want this in the States you have to order it online or scour TJ Maxx. It's a biphase leave-in conditioner, with a watery layer on the bottom and a lotiony layer on top. You shake the bottle until it's all one color, and spritz it a few times onto towel-dried hair (starting at your ears and going down to your ends). Here's the PR copy: "Recommended for fine, fragile, or limp hair. Detangles and conditions in one go, without overloading the hair or adding oil. Acts on the hair both internally and externally. The aqueous phase provides internal care with its active conditioning agents and proteins that nourish and repair the hair shaft. Its marine extracts repair damaged hair like a 'hair bandage.' Its silicone phase provides the external care, adding shine, softness and volume and making the hair easy to brush." It smells like the beach in the most natural way possible and even though it's extremely light on my hair and seems impossible to overdo, it keeps my ends so moisturized! I am absolutely in love with this. It was so cheap, it isn't oily or heavy, and it packs a serious moisturizing punch and smells yummy. I've dyed my hair like ten times this semester, and it's still looking crazy healthy--all thanks to this blue bottle!
A few days ago I ran out of my beloved salt spray, Blow Beach Blow, which I can't find anywhere in Spain. Desperate for some hair texture, I had an idea. The ingredients of this leave-in conditioner are very similar to those in Beach Blow, minus the sea salt. So I added two teaspoons of fine sea salt to my Nelly conditioner. I know. I'm silly. But it totally works! It helps to give my hair a bit of grit and texture, and when I put it up in a bun after I spritz on some of this, I get nice little waves. Not dramatic waves (I need me some 400+ degree heat styling tools for that) but not straight Barbie hair.
Conair Infinti You Curl, $29.99 on sale at ulta.com: Speaking of waves, one of the things I'm most excited to get when I go back to the US is a conical wand curler. Conical wands are curling irons without the clamps, so they don't leave those awkward little dents on your hair. I can curl my hair with my straightener, but it takes forever and gets a little wonky on the back of my head. This curling iron from Conair seems basically foolproof. You just wind your hair around the wand. That's it. It's perfect for beachy waves, which just happens to be my favorite.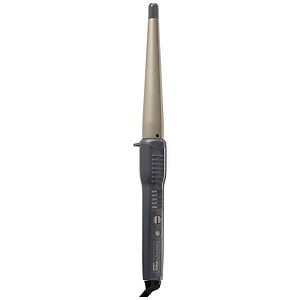 That's all for now, guys! Besos from Espana!

Images via nelly.es, drugstore.com.